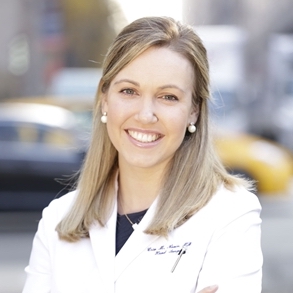 Dr. Erin Nance specializes in orthopedic hand and upper extremity surgery, as well as traditional orthopedic services. Dr. Nance takes her time with every patient in her Midtown East, New York office, ensuring everyone gets the care and attention they deserve.
Board-certified and fellowship-trained, Dr. Nance takes a hands-on approach to treat her patients, whether it's for carpal tunnel syndrome or a finger fracture. With a concierge approach to her orthopedic practice, she offers both non-operative treatments and surgical procedures to hard, arm, and shoulder problems.
Born and raised in New York, Dr. Nance attended the University of Virginia with the prestigious Jefferson Scholarship and graduated with high distinction. She then attended medical school at Brown University before completing her residency in orthopedic surgery at Lenox Hill Hospital in New York City, Boston Children's Hospital in Boston, and Maryland Shock Trauma Hospital in Baltimore. Dr. Nance also completed a hand surgery fellowship at the Hospital for Special Surgery in New York City.
Dr. Nance published numerous peer-reviewed scientific articles regarding wrist injuries associated with yoga and pilates, ligament reconstruction, and other hand and upper extremity issues. She's presented at both national and international conferences and belongs to numerous professional associations, including the American Academy of Orthopaedic Surgeons and the American Society for Surgery of the Hand.
In her free time, Dr. Nance enjoys spending time with her husband and daughter, as well as teaching residents and medical students at Lenox Hill Hospital.
Get To Know Your Hand Surgeon
Why did you become a doctor?
When I was seven-years-old, I fell and broke my arm. My father called his friend, who was an orthopedic surgeon and happened to be at the opera. He came to the Emergency Room in a tuxedo and placed my arm in a cast. I've been passionate about orthopedic surgery ever since. I pride myself on going the extra mile for all of my patients, including showing up to the ER in an evening gown on more than one occasion.
What is your approach to medicine?
Listen, listen, listen. Almost all medical diagnoses can be made from allowing the patient to describe what is bothering them. I never want a patient to feel rushed or feel that they weren't heard. All of my treatment plans are tailored specifically to each patient's needs and goals. I will take into consideration your lifestyle, your sports and exercise routine, and your job functions to decide whether conservative or surgical management will be the best course of action.
How would you define patient care?
I treat patients as part of a doctor-patient partnership. When you come to my office you are only treated by myself, not by a physician assistant or nurse, for all preoperative and post-operative visits. I personally perform all of my own surgeries. Post-surgical patients have direct access to my cell phone in case they have any questions at any time. My goal is to perform superior orthopedic care while providing first class service.
Do you do any non-profit or philanthropic work?
I am very involved with my high school alma matter, the Marymount School of New York. They are one of the leaders in STEM education for girls, and I have proudly served on their Board of Trustees and sponsored a high school intern for the past 5 years. I also serve on the Playground Partners Committee for the Central Park Conservancy. Playing with my daughter in Central Park is one of my most cherished New York City experiences.
Education
Medical School – Brown University, Doctor of Medicine
Hospital for Special Surgery, Fellowship in Hand Surgery
Lenox Hill Hospital, Residency in Orthopedic Surgery
University of Virginia, (Bachelor's)
Physician License
Dr. Erin Nance, board-certified orthopedic hand surgeon, wrote about the causes of carpal tunnel during pregnacy for The Bump.
She is quotes saying,
"During pregnancy your body swells, causing nerves to compress. The problem is, nerves need space in order to perform their functions properly (aka, sense touch, temperature and pain). When your pregnant body is swollen, the nerve becomes pinched, causing those painful Carpal Tunnel symptoms, particularly overnight. That's because people tend to sleep with their hands curled (just like our little ones!). When the wrists are flexed for a long period of time, it puts pressure on the nerve. Many women wake up feeling the need to "shake out" their hands to make the tingling go away."
Dr. Nance takes a hands-on approach to treating her patients, whether it's for carpal tunnel syndrome or a finger fracture. With a concierge approach to her orthopedic practice, she offers both non-operative treatments and surgical procedures to hard, arm, and shoulder problems.
Undergoing surgery is a very serious undertaking. From the initial evaluation, to operating, to removing stitches, to personally following with your therapists to check your progress, Dr. Nance provides all pre-op, operative and post-op care. You will not have to go through layers of nurses or physician assistants to reach Dr. Nance for questions or concerns.
Recommended Treatment Options
Review from Erchelle M
Source: Google | Jan 26, 2021

Dr. Nance is both professional and warm from surgery to all of my post-op appointments. I highly recommend her !
Review from NM
Source: Healthgrades | Jan 7, 2021

I was so impressed with Dr. Nance. She listens and explains wonderfully. Highly recommend.
Review from Neville S
Source: Healthgrades | Dec 24, 2020

very professional, answered all questions and gave a great understanding of whats going on
For home visits between Manhattan and East Hampton, don't hesitate.
We want to help you feel at ease.